A Guide to Medieval Historiography
The Repertorium "Geschichtsquellen des deutschen Mittelalters" (Historical Sources of the German Middle Ages) is an online encyclopedia of narrative historical sources written between the reigns of Emperors Charlemagne and Maximilian I. (i.e. from ca. 750 AD to 1519 AD) and either geographically originating in the area of the Frankish and later Holy Roman Empire or thematically related to German Medieval history.
Famous Texts of the Middle Ages
The Repertorium currently encompasses more than 5500 works in Latin and German, including such well-known works as the "Carmina Burana" and the "Chronicle" by Otto of Freising.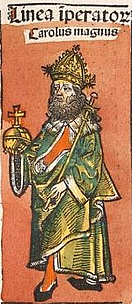 For each text, the Repertorium provides information on:
the manuscript transmission, printed editions, facsimiles, translations, and research literature.
The digital Repertorium is being continuously up-dated and expanded.
From the Printed Book to the Digital Version
The digital Repertorium is an expanded and revised edition of the printed "Repertorium Fontium Historiae Medii Aevi", which was produced in international cooperation and published in 11 volumes between 1962 and 2007.
It is exclusively available online.